Falls from height are the most common cause of fatalities, and the second most common cause of major injury in the industrial workplace, therefore fall protection systems should be the highest priority for the workforce.

Rapid Rail Passenger Horizontal Lifeline System is the strongest fall arrest system available, capable of fall protection of one to 10 men in full fall arrest. It is designed for the heaviest of industrial use in the harshest of environments. Passenger Horizontal Lifeline System offers safety and peace of mind, combined with ease of use and freedom of movement, critical factors when safety and efficiency are considered when working at heights.
Constructed from 12mm diameter stainless steel 316 cable, it is capable of bearing loads to 8.77 tonne / 8770 kg. Manufactured to European standard EN795 2012/2013 for single and multiple users and structurally verified to the current BS standard BS5950 and Eurocode 3. This cable quality has led to the common description of 'Blondin wire' or 'Tight wire', named after the famous tightrope walker Charles Blondin* of the 19th century.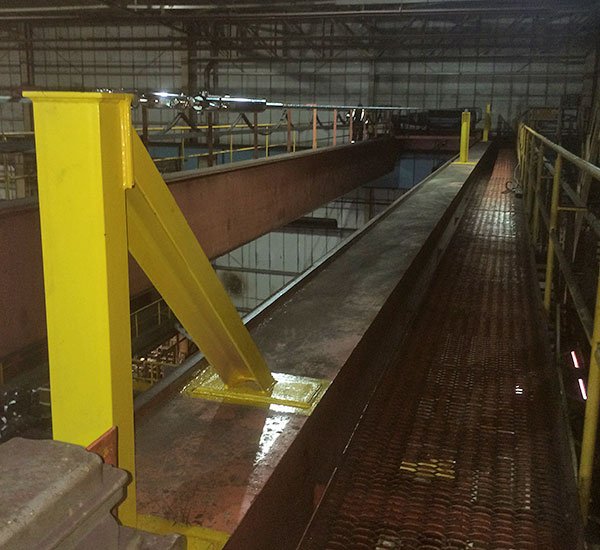 *Charles Blondin was a tightrope walker who amazed his audiences performing amazing feats across Niagra Falls.
Passenger is suitable for use in aluminium, construction, crane manufacture, steel manufacture and processing, heavy industry, power applications, in fact any environment where safe working at heights is a critical consideration. Installation is fast and can be adapted to your own height positioning, using customised software to calculate accurate fall protection, full fall arrest system requirements, use of fall protection lanyards, permanent horizontal lifelines and lifeline anchors. The Passenger system is unobtrusive, does no damage to roofs and does not interfere with architectural integrity.
How can this be achieved?
For the highest standards of application Passenger Horizontal Lifeline System offers design features for safe working at heights such as:
highest standards of safety compliance
quick and easy yet adjustable installation
multiple users - up to 10 persons in fall arrest
smooth operation
hands free movement
maximum shock absorption
adjustable roof clamps
permanent
customised design and installation
simple maintenance (annual service requirement)
cost efficiency
superior to all alternative products.